This post may include Amazon links. As an Amazon Associate I earn from qualifying purchases.
Until I started blogging a few years ago, I'd never heard anyone talk about "auto-buy" authors, but the first time I heard the term, I knew exactly what it meant. For me, it's an author that you're so confident about that you can be onboard for reading his or her next book without even reading the synopsis. From the moment I heard the term I could also identify many favorite authors to whom that would apply. Today I'm sharing twelve authors whose fabulous writing has earned them a spot on my auto-buy list. This Top Ten Tuesday topic is hosted by That Artsy Reader Girl.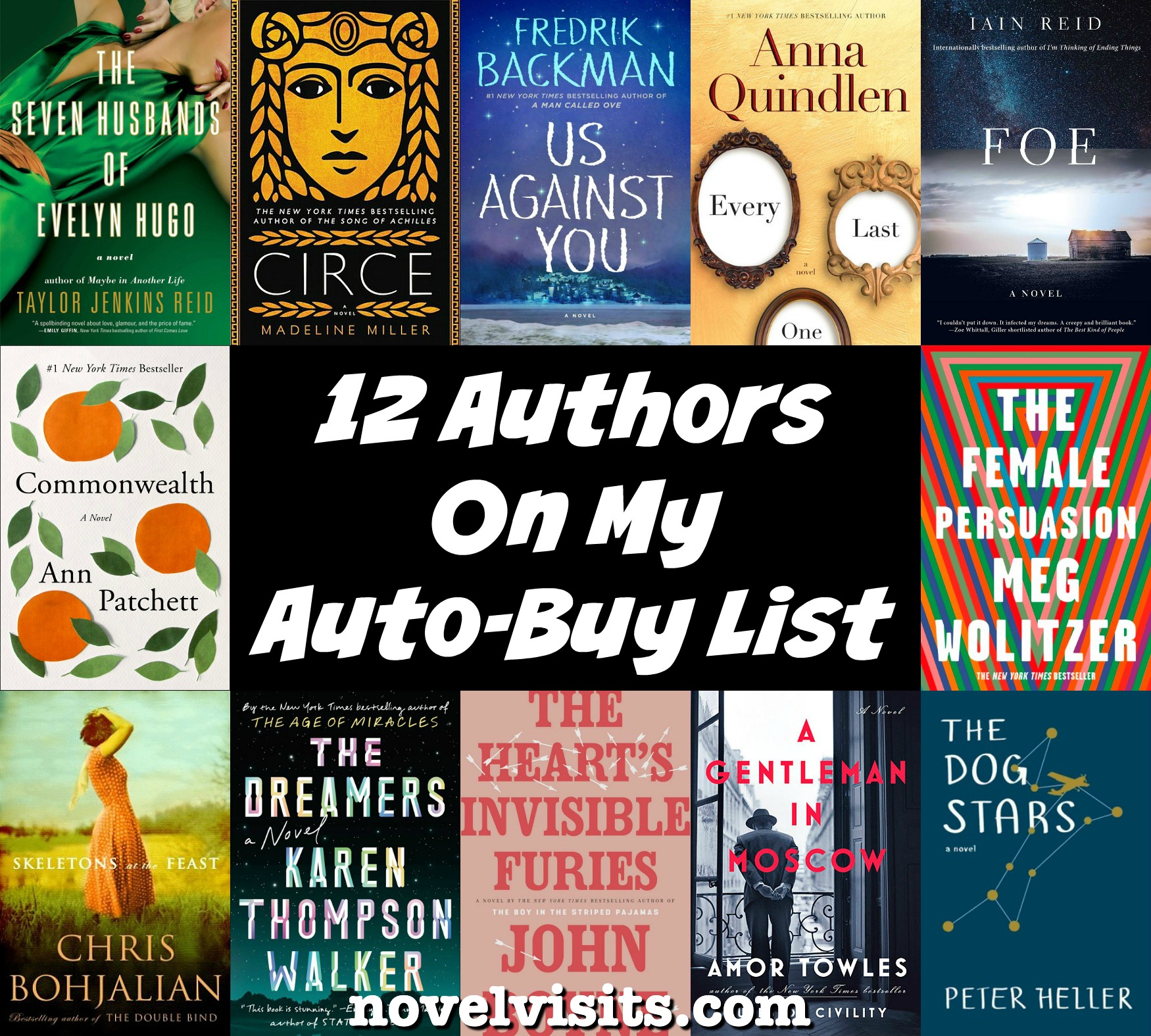 Narrowing my list down to 12 was no easy task. To help, I required of myself that they had to be authors I'd read at least two books from and in most cases more. That eliminated all debut authors who have yet to produce a second novel. Many in that category I'll eagerly snap up their next book. Some of the authors on this list have been there for years and others are relatively new. As we all know, favorite authors can wax and wane, so my list is a fluid one. (The list is in alphabetical order and nothing more.)
Authors On My Auto-Buy List
Fredrik Backman – I first came to appreciate Backman with A Man Called Ove, but it wasn't until Beartown (my review) that I truly fell in love with his writing style. By the time I got to Us Against You (my review) I was a complete fangirl!
Chris Bohjalian – I'll be honest, I haven't loved Bohjalian's last two books, The Sleepwalker (my review) and The Flight Attendant (my review), but his amazing range keeps him on my auto-buy list. I've adored so many of his books including Skeletons at the Feast , The Guest Room, and Close Your Eyes, Hold Hands that I'll always want to read what he puts out.
John Boyne – I was first awed by Boyne with my very favorite book of 2017, The Heart's Invisible Furies (my review). This year's A Ladder to the Sky (my review) I didn't like quite as much, but I remain a Boyne fan and need to get busy and dive into some of his backlist books.
Peter Heller – Heller is definitely the newest addition to my auto-but list. He first came to my attention with this year's release, The River (my review). I was so awed by it that I immediately read (and loved) his earlier hit, The Dog Stars (my review). I went on and read The Painter which I also thoroughly enjoyed. There's just something about Heller's writing that really appeals to me and I'm eager to read more!
Madeline Miller – Sometimes you just don't know yourself as well as you think. I ONLY gave Circe (my review) a chance because so many others liked it. I expected to DNF it. Instead, I was awed by Miller's fresh take on Greek mythology in both Circe and The Song of Achilles (my review). I'd love to get my hands on more mythology from her.
Ann Patchett – If I had to pick my number one auto-buy author, it would be Patchett. I first discovered her with Bel Canto, and have moved on to many others including State of Wonder and Commonwealth (my review). Her ability to write such vastly different stories that sweep you away keeps me a fan. I'm very excited to read her new book, The Dutch House, coming out in September.
Anna Quindlen – The great Anna Quindlen, she can do it all. Fiction and nonfiction. Somehow I'd missed Quindlen before I started blogging, but was quickly pointed to her. I started with Every Last One (my review) which absolutely gutted me, but made me a devotee. I've read several others including One True Thing, Alternate Side (my review) and this year's book of thoughts on grandparenting, Nanaville (my review).
Iain Reid – Reid is perhaps my most unlikely choice for an auto-buy author, but there's just something about his writing that leaves me wanting more. Both his debut, I'm Thinking of Ending Things (my review), and his sophomore effort, Foe (my review) left me with a lot of questions, but in the best possible way.
Taylor Jenkins Reid – Okay, maybe my number one pick would be Reid. It's a close call! I first got the bug for Reed's fabulous story telling with The Seven Husbands of Evelyn Hugo (my review), and then grew positively rabid with this year's mega-hit, Daisy Jones & The Six (my review). I've also hit her back list with One True Loves. Anything she writes, I'll read!
Amor Towles – Towles writes long immersive novels that you get completely lost in and I just love that. Both The Rules of Civility and A Gentleman in Moscow (my review) did that, but in completely different ways. His books tend to be spaced a couple years apart, so it must be just about time for a new one?
Karen Thompson Walker – I first discovered Walker in 2012 with her debut, The Age of Miracles (my review). After that, I'd look every six months or so to see if she had anything new coming out. It wasn't until this last January that the world was finally rewarded with her second wonderful book, The Dreamers (my review). I hope we don't have to wait quite so long for her third!
Meg Wolitzer – The Interestings is one of my all time favorite books and for that reason alone I would try anything else Wolitzer writes, and lucky for me she does so much, so well. I've especially enjoyed The Ten Year Nap and last year's well received, timely story, The Female Persuasion (my review).
Who are your favorite auto-buy authors?
PIN THIS POST ⇓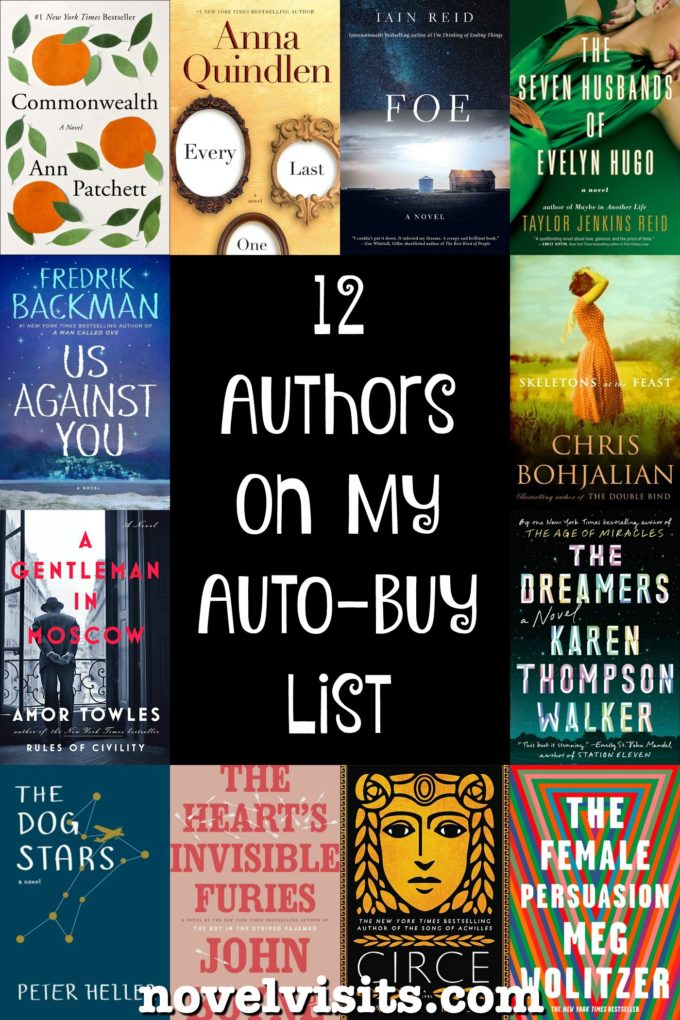 Disclosure: There are Amazon Associate links included within this post.